Your Instructors
Carla Bates, Painter and Graphic Designer
Carla is a California native whose talents span the fields of both commercial and fine art. She holds a Bachelor of Fine Arts Degree from California State University in Fullerton. As a Graphic Designer and a painter, she has been fortunate enough to work on projects with Malibu-based entities, such as The Malibu Playhouse, Once Upon a Time Children's Theatre, The Montgomery Arts House for Music and Architecture, Eco Hero Kids, The Malibu String Academy, and The Malibu Civic Ballet. Despite her busy schedule, she makes time for her first love, painting, and has enjoyed success in creating land and seascapes depicting her vision of the Malibu experience.
Gwen Hoeffgen, Artist
New Age Realism artist Gwen Hoeffgen has been honing her ability to create since her early years in high school. After embracing her affinity for the unusual in reality, she began transcribing her emotion onto canvas. Inspired by basic and brilliant human connection, Gwen hopes to implore others to think outside the norm, and breathe in new personal understanding, in time bringing forth ​their own hidden emotions.
Gwen Hoeff's preferred medium is acrylic, but works with any/all forms, including pencil sketch, charcoal, and water color.
Along with painting, Gwen also enjoys her guitar as well as traveling to new places/countries to see and experience new things.
How Do I Attend?
All seniors and their families are invited to attend our weekly virtual painting class. To begin, make sure you register. We only have seats for 50 participants, so make sure you click the form above to let us know.
Our class is free! Everyone is welcome to attend and paint their picture.
When you sign up, you will receive a notification email. This gives you instructions to download our meeting app with the ID to attend. It also includes a list of what you need to paint what is needed.
We Can't Wait To See You There!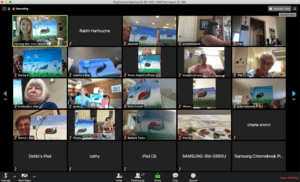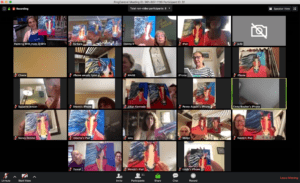 With the outbreak of Covid – 19, seniors were requested to stay at home, leaving only if required. What we know at BlueSea Care, is that community is just as important for someone's health as physical care.
Social Distancing Is Not Social Isolation.
We are committed to connecting seniors together, making sure that they are still a part of the community and are receiving connection and support. Staying together at this time will make us stronger and healthier.
To read more about community and social distancing, read here.
FAQ